Ngamba Island Chimpanzee Sanctuary
The Ngamba Island Chimpanzee Sanctuary is located in Lake Victoria and home to 49 chimps rescued from across Uganda. The Chimpanzee Trust, a Ugandan-based nonprofit manages the sanctuary and was established in 1998 for the care and welfare of the sanctuary. Their mission today has expanded to also promote chimpanzee conservation and wildlife management for sustainable development.
Ngamba Island is entirely dedicated to the chimpanzees with 95 acres of open forest habitat available to the chimps everyday. They have the freedom to stay in the forest or return to large enclosures at night where they receive extra food and hay to build their nests. Their behavior and health are monitored daily and an extraordinary team of veterinarians and caregivers provide round the clock care.
A member of the Pan African Sanctuary Alliance, Ngamba is considered one of the leading primate sanctuaries in the world where researchers, institutions and other sanctuaries come to learn, collaborate and share knowledge.
If you would like to plan a visit to Ngamba Island, you must coordinate with The Chimpanzee Trust, the non-profit managing the sanctuary. For more information, visit The Chimpanzee Trust website. You are also free to contact us for more information. A beautiful boat ride from Entebbe, you can participate in their 'Caregiver for a Day' program, watch the animals from a viewing platform and learn all about life on Ngamba Island. And, in addition to Ngamba Island, Uganda, known as the "pearl of Africa" also has wild chimpanzees, mountain gorillas, elephants, hippos, rhinos, lions and so much more! What are you waiting for…
Interested in volunteering at the sanctuary? Get all the details on their website.
Founding Trustees:
The Jane Goodall Institute
Born Free Foundation
Uganda Wildlife Education Centre
Environmental Conservation Trust of Uganda
International Fund for Animal Welfare
New South Wales Zoological Park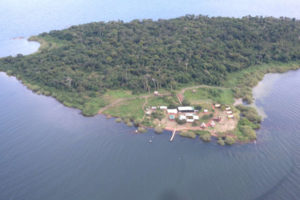 Aerial view of Ngamba Island
Some island staff have worked at Disney's Animal Kingdom in Florida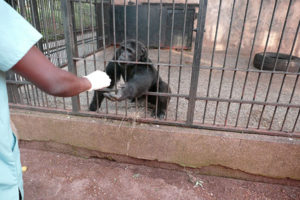 Chimps receive world class veterinary care
Sunset views on Ngamba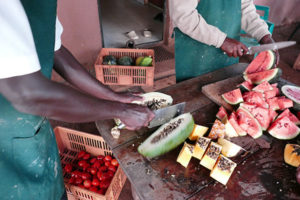 Preparing Breakfast for the Chimps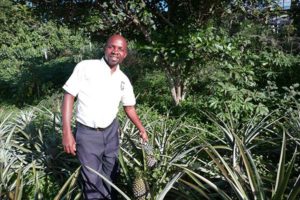 Animal Caregiver, Paul, grows fresh pineapples for the chimps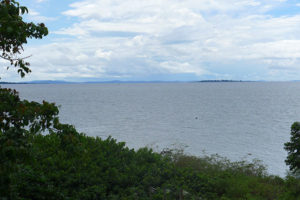 View of Lake Victoria from top of island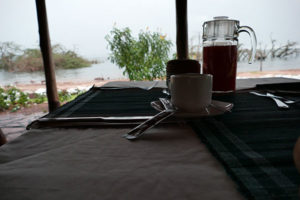 Breakfast views for overnight guests